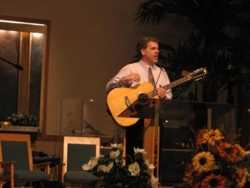 Randy Brower, Elder & Sabbath School Superintendant
A FEW WORDS ABOUT SABBATH SCHOOL
Being the Sabbath School superintendent for the Mesa Palms Seventh-day Adventist Church is an awesome job. I get to see and deliver some exciting, informative and interesting presentations each week. Those in attendance are, I believe, truly blessed every week. What a shame that so few take advantage of it.
Are you one of the regular attendees? Do you feel blessed? If so, why not spread the word to some of the others who don't usually make it? It would be helpful to them and to the leaders who deliver the program from the platform.
Are you one of the ones who decides to only come to church? If so, you don't know what you're missing. Give it a try sometime ... you just might surprise yourself.
If you've never been to a Mesa Palms Sabbath School class before, remember: it's not just another sermon on the topic of the lesson study. Come see what it's all about!
Mesa Palms Sabbath School Superintendent